What is AtomicShops.com?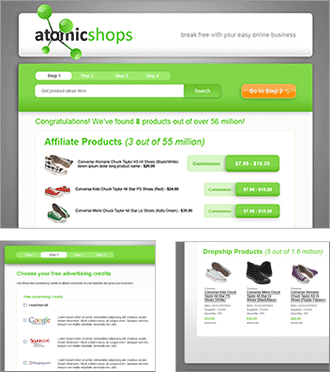 AtomicShops.com is hands down the most robust, easy to use website builder online. Our parent company was founded in 1999, and over 572,000 websites have been built using our technology! Our goal was simple – to create an easy website builder that empowers aspiring Internet entrepreneurs with all of the tools and education they need to achieve their dreams.
For AtomicShops, we've taken that technology and added awesome features to connect you with some of the highest paying offers, product catalogs, and professional industry knowledge available. With AtomicShops, you don't need to know anything about HTML or web design to be a .com millionaire.
Simply choose your product(s), then pick & customize your template then go live! You can make changes to your website any time you like.
At AtomicShops, our mission is simple: to be the first truly all-in-one resource for getting online fast.
Brought to you by the company featured in: